For Parents
Nurseries offering FS2 in Dubai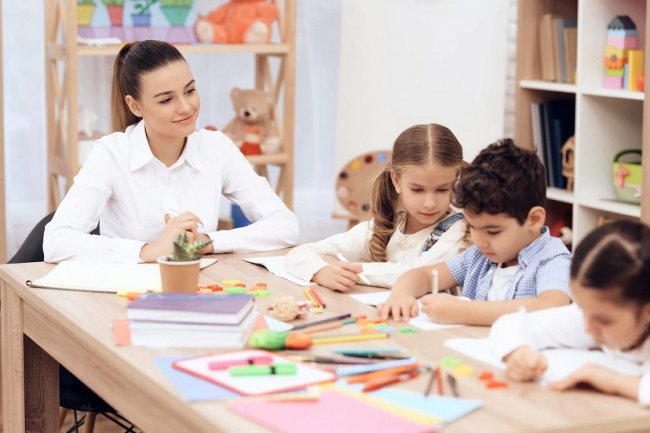 Foundation stage 2, or FS2, is the first year of compulsory education for kids between the ages of 4 and 5 in the schools that follow the EYFS (Early Years Foundation Stage) framework. FS2 plays a significant role and is fundamental to a child's learning process, enabling them to transition to primaryq school. FS2 is critical in assisting your child's understanding of communication and language, as well as physical, personal, social, and emotional growth.
Here are our top picks of Dubai nurseries offering FS2 for your little ones:

Emirates British Nursery, Midriff
Emirates British Nursery, located in Mirdif, Dubai, has state-of-the-art facilities, which include 5 outdoor areas, an outdoor swimming pool, and a large indoor auditorium. Recently, in September 2022, they opened the FS2 program. They cater to children aged 1.5 months to 5 years. They follow the British Curriculum with a strong emphasis on creating positive parent-child partnerships. The aim is to create a welcoming environment for children of different cultures and ethnicities so that they can grow and develop together.
Dubai Motor City Nursery
The Dubai Motor City is another popular nursery in Dubai that caters to children from different communities. The nursery is beautifully designed and has a sensory garden and multiple bright classrooms to teach children in a play-and-learn atmosphere. Besides, it also has several large activity rooms, a dedicated auditorium, and lots of outdoor playgrounds for children to explore. They are purpose-built to meet children's needs.

The Little Dreamers Nursery
The Little Dreamers Nursery in Dubai is an award-winning British nursery located in Jumeirah. It offers FS2 levels for early childhood education in Dubai. They have a child-led approach as per the British EYFS curriculum. They believe in providing the best education that every child deserves. For this, they have a highly qualified and trained staff. They take children from 9 months to 5 years. They have play areas both indoors and outdoors. Aside from a mini-indoor forest and a yoga center, they have a variety of other activities to keep the kids entertained.
Kinder Castle Nursery
Kinder Castle Nursery is one of the most popular nurseries in Dubai, offering FS2. It has plenty of indoor and outdoor space for activities, including an indoor skyline climbing wall, a soft play gym, a performance area, and a sensory room. They have equally impressive outdoor areas such as an organic garden, grass play areas, soft play areas, etc. They also use color and creative equipment to enhance children's learning environments. They aim to provide a creative and nurturing atmosphere for the kids to learn and grow.
British Orchard Nursery
British Orchard Nursery (BON) is one of the top nurseries in Dubai. BON has been awarded over 25 international and national quality awards, including the prestigious Sheikh Khalifa Excellence Award. It is also the UAE's first ISO-certified nursery. It has a vast area dedicated to learning and development based on the British curriculum. It includes indoor and outdoor facilities, such as a gym, sensory room, and library, among others. It lays emphasis on tapping into a child's imagination to develop creative thinking along with critical reasoning. In addition to FS2, BON launched the UAE's first research-based self-regulation program to promote social and emotional learning (SEL) in the early years, as well as a mindful awareness program (MAP) for young children.
Choosing the right nursery can be challenging for parents, as this may be your child's first interaction with and exposure to the outside world without parental supervision. We hope that this blog post has added a little more information to assist in your search, and we also recommend that you plan a visit with your children to these nurseries to see how they react to the environment, the staff, and other children before making a final decision! This will include them as a part of this decision-making process, and you can be assured that they will feel at home in the place where they are going to learn.