For Parents
7 Ways To Assist Your Child in Improving Their Writing Abilities

Writing is one of the important forms of communication and an essential component of education for students. Based on a study conducted at Arizona State University, writing proved to be a beneficial activity across all subjects. The University Professor, Steve Graham, and his colleagues analysed 56 studies looking at the benefits of writing in science, social studies and mathematics; they found that writing "reliably enhanced learning" across all grade levels.
However, in today's edutech society, children face difficulty in exploring opportunities to practise and enhance their writing skills. Many parents are unsure how they can help their children improve their writing skills. Let's take a look at five ways you can help your child with this endeavour -
1. Dedicated Space
A nice writing surface (i.e. a desk or table with a smooth, flat surface) is essential for your youngster. It is also crucial to have good lighting. Provide all the necessary writing materials - lots of lined and unlined paper, as well as pencils, pens, and crayons.
2. Brainstorm Smartly
Discuss your child's thoughts and impressions as much as possible. Ask them to keep a running list of ideas. Encourage your child to revisit this list to describe people and events through written exercises.
3. Gamify Writing
Play writing-related games and exercises. Everybody appreciates crossword riddles and word games. Try "compose the word" game that will engage small kids, in which they look for things and record the word as they find it.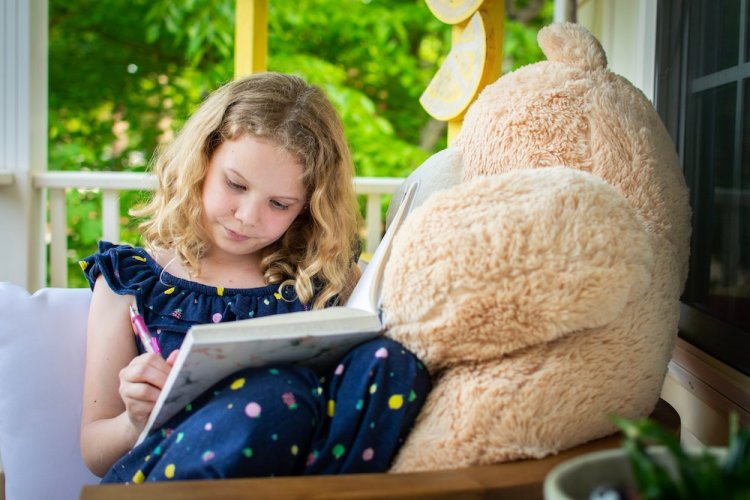 4. Journaling Time
Keeping a journal is an incredible way for young people to offer their viewpoints and thoughts while expanding on their writing abilities. Plan an excursion with your kid to choose a pretty journal and urge them to write in it as much as they can. Make it a customary piece of their day.
5. Relatable Factor
Consider your child's favourite book series. Perhaps he or she is preoccupied with dinosaurs. Make a connection between his or her interests and writing. Allow your youngster to write a new short story about one of his or her favourite characters, or a story about dinosaurs.
6. Harness Technology
There's no denying that technology plays a significant role in our lives. Make the most of it by having your child start a blog. This can help your child improve their writing skills when they write on a regular basis. Added bonus - if their blog does well, it might look good on their college portfolio in the future!
7. Show Gratitude for Their Work
Show a keen interest in your child's storytelling and writing. Inquire about his or her writing. Congratulate them when they bring home a good piece from school.
These seven recommendations will help you encourage your kids to enhance their writing skills. Just remember to be patient and consistent - writing isn't intuitive to every child. But, practice will make perfect.