For Parents
The Best Music Schools in Dubai for Children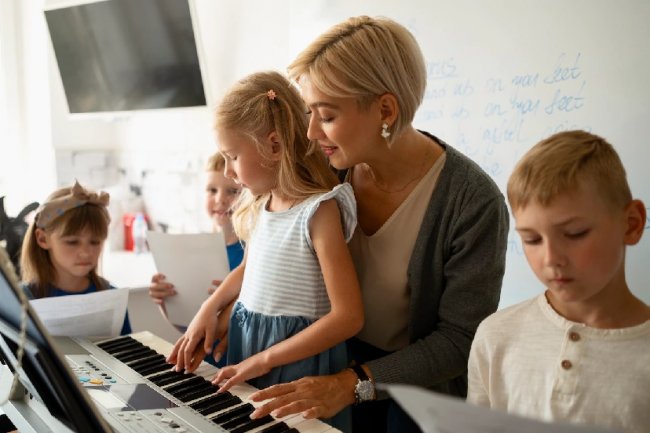 "Where words fail, music speaks." Hans Christian Andersen
Music has the power to transform and have a unifying effect on people. But more than that, a study suggests music can produce positive changes in the brain.
While listening to music, young children can develop the basis for future speech, language, motor, and cognitive abilities through neural pathways that get activated by musical experiences. Music also promotes neuroplasticity by combining non-musical abilities with music. This also results in active communication between the two hemispheres of the brain, which stimulates development and growth. Listening to music can also release the happy hormone called "endorphins." Thus, it can soothe and calm the kids, make them feel happy, improve communication skills, and offer several other benefits.
While listening to music has a positive impact, composing music has an even greater psychological impact because it requires a variety of different abilities, such as creativity, precision in language and math, and fine motor skills (such as the ability to grasp and squeeze items).
To help you make an informed decision, we have curated a list of the best music schools in Dubai for children of all ages:
- Music Monkeys: This school was founded in 2012 and is based in Abu Dhabi and Dubai. It is one of a kind. The program accepts children aged three months to four years. At Music Monkeys, the team is passionate about introducing music as early as possible and understands the value, importance, and impact it can have on a child. They also have age-specific groups tailored for children's development. If you are unable to attend one of their regularly scheduled lessons, Music Monkeys can come to your home for a one-on-one music and movement session.
- Thomsun Music Institute: Thomsun is one of the top Yamaha music schools in Dubai. This music school was established in 2000 and aims to provide a dynamic and liberal music environment to people of all ages. It delivers quality lessons and boasts the idea of family-centered music education. The Thomsun Music Institute provides instruction in a variety of musical instruments, along with performing arts.
- Rockstar Music and Dance: Students of all ages and skill levels can enroll in a variety of music and dance courses at Rock Star Music and Dance School. They are affiliated with Trinity College London (TCL) and follow its syllabus. They also make sure that their instructors are Trinity-certified and experienced.
- Dubai Music School: Glenn Perry, an MTV pop star, founded Dubai Music School. It is the country's first music school and has evolved into the ideal learning atmosphere that fosters quality. The school's goal is to give lessons to students who are interested in music. They believe that the achievement of the student's individual goals as well as those of the Dubai Music School depends on the value and efficacy of the education provided. They have highly trained and qualified instructors to bring out the best in students. They also conduct international music exams at ABRSM, Trinity College of Music, Vienna Music Conservatory, and New York Music Academy for students who want to take up music professionally.
- Melodica Music and Dance Institute: Melodica Music School & Dance Studio has 18 prime locations across Dubai, Abu Dhabi, Sharjah, and Al Ain (UAE). It has a record of coaching more than 10,000 students, which makes it the largest music school and dance studio in the UAE. It was founded by pop star Afshin in 2017, who has performed in more than 500 professional concerts worldwide. They also have separate classes for kids aged 3-5 years.
Music gives the soul and meaning to life, wings to our mind, and expression to our imagination. It promotes harmony between the body and the mind. There are numerous options for parents to explore in music "for" and "with" their children across the UAE. As they express themselves through music, children can also begin their journey of self-discovery. With proper guidance, you may even discover the next Mozart in your child!