For Parents
How Preschool Helps Children Learn Better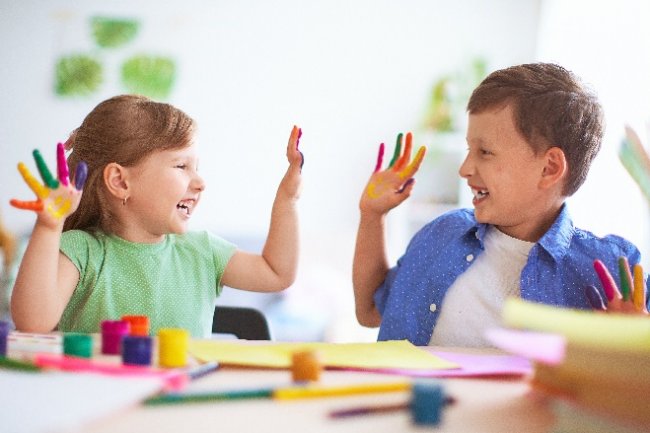 Sending your child to preschool can be a daunting experience for any parent. However, preschool lays the groundwork for academic learning that will help your child succeed in elementary school. During early childhood, toddlers build basic habits, develop their abilities and mental skills, and socialize by interacting with other people in a stimulating environment. According to the research published in the Journal of Research in Childhood Education, kids' emotional, physical, and intellectual growth is highly influenced by early childhood education, which prepares them for further achievement in life.
Interestingly, another study published by Burlacu and Florentina has shown that learning in the early years is essential for a child's growth over their entire lifetime, according to brain
studies done over the past ten years. Within the first few years, children begin to build the neural circuits they will later employ for everything from coloring to calculus. This revelation has prompted leaders in the majority of developed societies to give preschool education considerable consideration, a trend that is reflected in both global and European statistics.
Here are five reasons why preschool is important for children to learn better:
Encourages curiosity
Kids are born with an innate curiosity and a desire to learn and explore their world. This curiosity is an essential tool for learning and memory retention, and it can be encouraged and nurtured by preschool teachers through question-provoking activities. In a preschool, they have a teacher or a guide who can constantly be available to satiate this inquisitiveness and provide the right information. This helps to develop their imagination and creativity while promoting their desire to learn more. Curiosity also helps children take the first steps toward becoming lifelong learners.
Improves language and communication skills
Going to a preschool is an excellent opportunity for children to not only learn new words but also to become immersed in a learning environment that encourages communication and language development. According to the research published in Frontiers, kids' vocabulary competency is highly influenced by teacher-child interactions in preschools. Learning with other children in a safe and supportive atmosphere gives children a platform to develop their understanding of emotions and empathy, making them more confident in their language and verbal skills. By participating in activities that focus on the development of communication and language, children will be able to better express themselves and their ideas. This, in turn, will help them explore the world around them in a more meaningful way.
Enhance cognitive abilities
According to the research published in PubMed Central (PMC), cognitive control skills and development are crucial factors in the growth and development of children. Early childhood education plays a pivotal role in fostering a child's cognitive development, creating an environment where they can learn to think critically, make decisions, and solve problems. Preschool teachers harness this opportunity to nurture cognitive skills in children through activities such as trying out new things, asking questions, making comparisons, recognizing patterns, and identifying objects. Such activities are essential for developing their cognitive faculties and giving them a strong foundation for the future.
Enhances Pre-literacy and maths skills
Preschool teachers are trained to facilitate activities and games to help children build pre-literacy skills. Young learners will learn the alphabet and connect letters to sounds. According to the research published in ResearchGate, the process of preschool education helps to develop children's phonological awareness and literacy skills. Through playful activities and board games, preschoolers are equipped with the fundamentals of mathematics, such as matching, sorting, and counting. These engaging activities make learning pre-literacy and math skills fun and memorable, creating positive and lasting connections.
Develop social and emotional skills
Early childhood emotional well-being has a lasting effect on social relationships. Social-emotional development goes beyond simply expressing emotions; it encompasses teaching children how to properly interact with others, become independent in routines, manage emotions, and build a positive self-image. Being able to develop and control these skills is essential to ensuring successful learning in the future. Through preschools, children can access a safe learning environment with numerous advantages, such as the ability to regulate emotions, concentration, and behavior, as well as develop positive relationships with others. Professional guidance and support are also provided to ensure an optimal learning experience.
To ensure kids get a head start in life, it is essential that they are taught the skills they need to thrive in the world from a young age. Preschools provide a safe environment where children can explore and learn. Preschools also foster a sense of community and belonging, which helps to shape children's social and emotional skills. Most importantly, it helps to develop the cognitive, physical, and language skills that will lay a strong foundation for future success.
Thus, choosing the right Nursery and Early Childhood Learning Center is an important decision for your child's future. Edkwery helps you do that by providing some useful links to help you find the best centers in your area,